As a tea supplier for businesses, at Alveus, we help tea brands and companies to succeed in starting a tea business.
How? We offer them everything that their customers are looking for: unique flavours, meticulous products and the best blends of organic tea with natural aromas.
We also know how to adapt to any business in the tea sector, using our infrastructure to help our customers.
The best tea in the world needs packaging to match, certain maintenance and preservation conditions, fast and safe transport, etc., and as a tea wholesaler, Alveus has everything you need in order to sell tea and infusions.
Solutions for your business - Types of tea business
Take your own tea business to the next level. Thanks to our experience of more than 16 years with customers all over the world, we are in contact with various types of tea businesses, in terms of format, volume and profile. We also work with companies that need packaged loose leaf tea wholesale to give away in large volumes. Purchasing customised tea gifts for professionals from small shops can be too expensive or the delivery times may be too long.
We are experienced in the main types of tea business:
Every business project is different, but at Alveus, we can accompany you in successful tea brand creation and provide tea expertise.
As well as providing the best products and tea advice, we also have the knowledge and hard work of the best professionals in the tea and infusions sector.
Order your selection of teas and infusions packaged with customised labels to encourage customer loyalty.
At Alveus, we are constantly working on our tea brand so that our customers associate us with high-quality products at first glance. If your company is also working to establish your brand among tea consumers, we have very interesting solutions for you:
Tea packaging as a private label, so that you can label it in your facilities
Private tea packaging and labelling, we send the product to you ready for final sale under your brand
All you have to do is choose your tea from the 1500 references in our catalogue or create your own exclusive recipes. We take care of the rest.
The largest assortment of teas in the world!
Request your 10 free tea samples.
*Only for tea business professionals.
If you are thinking about opening a tea business, either a physical shop or e-commerce, we offer you the chance to become a tea brand partner, this starting up with the backing of a stable and secure brand.
We make it very easy for you to become a tea brand reseller: we have the ideal product for each type of customer, premium quality teas with intense flavours, original names and attractive packaging.
We can also provide you with furniture, as well as other exclusive accessories for tea Brand Partners.
If your business idea goes beyond a selection of products, if you would like to sell a unique tea blend, you can achieve your goal with a minimum order of just 8 kg.
Benefit from our team of advisors with years of experience in the tea sector. You can take one of our teas or infusions as an inspiration and simply adapt it as you choose.
The best tea needs packaging that can preserve its qualities and adjust to the needs of each tea professional, such as custom tea tins, for example.
Alveus offers various tea formats, from the bag that is over 10 kg to small bags with ziplock for direct sale.
For tea businesses with more traditional processes, we offer FlexiTea, the solution that lets you purchase your infusions, custom tea bags and labels separately.
The preservation of our premium teas is our highest priority. Our warehouses in Hamburg have been designed in great detail to ensure the shelf life of our teas and to protect them from weather variations.
We can store orders and schedule the shipment of the quantities that each customer needs
Would you like to receive our catalogue?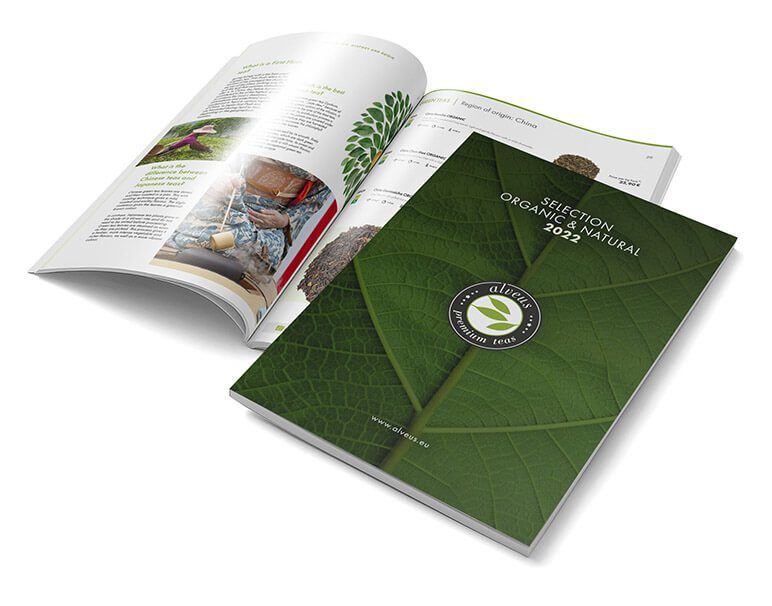 Please fill in the mandatory fields (*)