Loose leaf tea supplier, Alveus
Are you looking for organic premium loose leaf teas with exceptional flavours and aromas for your customers?
Discover everything that Alveus can offer you: green teas, black teas, Oolong teas, white teas, Pu-erh teas and Matcha teas. We have the most popular selection of teas and infusions on the market!
We offer high-quality loose tea and infusions for all kind of consumers: occasional buyers or those looking for gift ideas, beginners, seasoned enthusiasts or meticulous experts.
To retain a customer, it is essential to satisfy their expectations during the first impression and keep their attention with new teas. We provide the best catalogue of loose leaf tea for companies and advice based on years of experience.
The best blends carefully selected by our tea and flavouring experts. Of the 300 organic blends that we distribute in wholesale, more than 150 blends are flavoured in accordance with the new European Organic Regulation 2022.
Explore our exclusives teas from rare plantations, our teas for every season and time of year, and all our Branded Editions in ready-to-sell format. We have found the best of the best for your customers!
The largest assortment of teas in the world!
Request your 10 free tea samples.
*Only for tea business professionals.
We are importers of exclusive loose tea leaves, harvests with denomination of origin and limited productions.
Tea rarities are characterised by their uniqueness and high quality, and are the most sought-after teas by true experts of the tea world.
Premium quality organic teas
Our organic teas come from organic plantations that do not use chemical or artificial fertilizers or pesticides. GFRS, an independent German certifying body, ensures that all ingredients in our teas and infusions comply strictly with the regulations.
Every year, we undergo audits to guarantee compliance with organic farming requirements, from the production stages to final packaging.
Tea accessories wholesaling
The key item for selling the best bulk loose tea is the packaging in which it is presented to your customers. As first impressions are worth more than a thousand words, we provide elegant and modern accessories, specially designed to make your brand stand out and encourage customer loyalty.

In addition to packaging, we help you with accessories for your shop or tearoom: steel and oak displays and shelves, aluminium teaspoons, hot water dispensers, metal tea canisters, posters, paper bags, gift bags, brochures, etc.
Alveus tea wholesale services — your best partner for success
Would you like to receive our catalogue?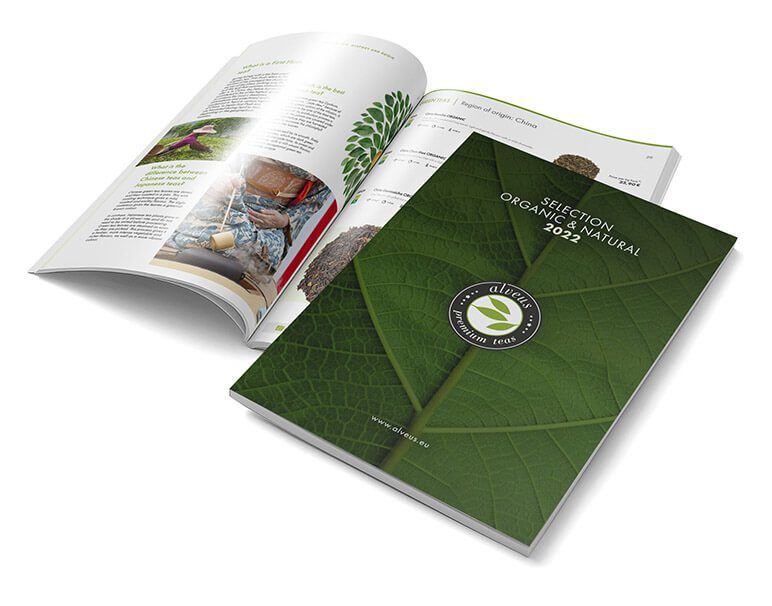 Please fill in the mandatory fields (*)