The origin of Halloween is in the Celtic peoples. Celebrated on October 31, All Saints' Eve, this holiday gradually spread to many Anglo-Saxon countries. 
Today, and thanks in part to the American cinema, Halloween is celebrated in many European countries. Costume parties are organized, and the houses where children live are decorated in the same way as the shopping malls. 
For tea store owners, it is a great opportunity to increase their sales by taking advantage of the festive spirit of society. 
In this post, you will discover some tips and effective strategies to boost your tea sales on Halloween.
Decorate your tea shop for Halloween
First of all is to create a terrifying atmosphere for Halloween. A week before, decorate your tea shop with spider webs, pumpkins, lights, and any thematic elements such as garlands or dolls. 
But not only the interior is important. The façade and the window of your shop will be the lure for passers-by to be curious enough to enter. 
Think as if you were a potential customer. What would attract your attention to a shop so that you would go inside? You can use small loudspeakers with spooky music, and laughter or call out to passers-by with a voice from beyond the grave: "I have a magic tea that you can't resist". Imagination rules!
Change the colour and stickers on your teabags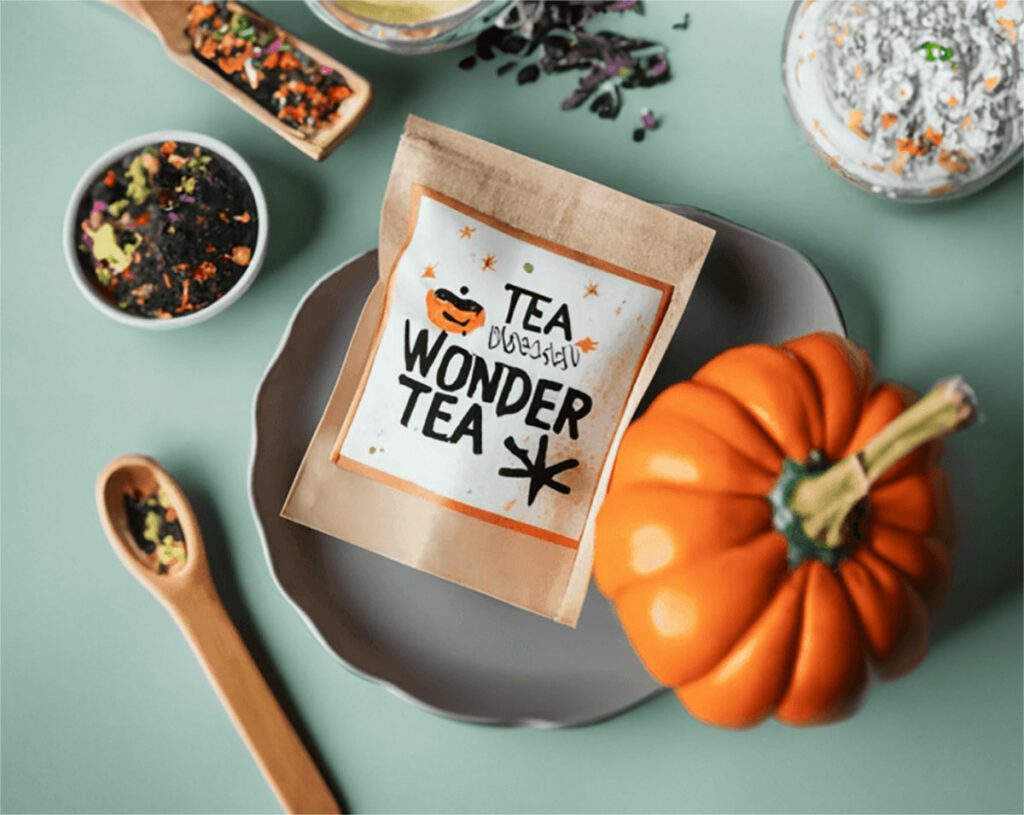 In the days before Halloween, use different coloured bags and packaging. If you can, create occasional stickers to stick on the tea bags, with a small advertisement saying "Meet our new Halloween tea from 15 October". This will create curiosity in your customers and they will surely come back to the shop. 
Changing the shopping bags, with a customised design for the occasion, will attract the attention of other potential customers on the street.
Create a special Halloween tea and herbal tea menu
Add some new "Halloween teas", put them on offer, and rename them with a Halloween theme like:
Magic Potion

Witches tea

Abracadabra
Don't forget to add some rooibos, and herbal and fruit teas as well. This way you can also have options for children and people who are sensitive to caffeine. 
You can set up a small table or a well-decorated shelf. Use stickers on the cans with brooms, pumpkins, or skeletons. With very little you can capture the attention of these temporary teas… and you know that temporality is a buying trigger.
Shop promotion: Trick or Treat
This simple Halloween tea promotion, used in some shops in the United States, consists of promoting a tea and an infusion without caffeine (remember the importance of being able to satisfy everyone). One tea will be called Trick and the other Treat. 
The suggestion is that the flavours of these teas are related to Halloween, so add candies, sweets, chocolates, or especially pumpkin tastes in these teas. 
Give them a special price and offer them to your customers with the famous question "Trick or treat?" Another option is to make these teas a free gift for purchases over a certain amount. You can be sure that more than one customer will be attracted by the different ways of being able to try these teas.
For tourists, it is key to market giftable products with suitable packaging and a nice design. Playing the local card, with the ingredients and tastes from the region also adds to the uniqueness and relevancy of your assortment.
Finally, don't underestimate the power of a good evocative tea name. It has to sound good in the ear of your customer….
As in the central areas of the city, rents tend to be quite expensive. You should also bear in mind that you will have to open your shop on public holidays, and weekends, and adapt to tourists' schedules.
Activities in your shop: Workshops and Halloween Tea Party
If you are lucky and you have enough space in your shop, activities such as workshops and events are an amazing option. 
You can organise a workshop on monstrous tea recipes. All you have to do is search Youtube or specialised portals for classic recipes for this date. You can create your own mixtures and recipes by adding tea. An idea is to add matcha tea to give green colour to the finger-shaped biscuits. 
You can also create a Halloween Tea Party for children and adults. Organise a costume competition among your customers, with gift vouchers for future purchases. During it, you can have a tasting of what's new on your winter menu and serve some snacks. All these types of activities will help to turn your customers into a real community of Tea Lovers.
Halloween has become an important party in many countries around the world. Many large supermarkets have adapted their offers to this time of year, and your tea shop should not be different. 
Incorporating some teas with related names, creating promotions, offering workshops and competitions… and above all decorating your shop in the most eye-catching way, can increase your sales at this time of the year. 
What about you? Do you do anything special in your tea shop for the night of ghosts? We'll read you in the comments!