Christmas means sharing moments with family and friends. Tea is the perfect link to bring people together. That is why Christmas means tea. 
Christmas teas are the star product at this time of the year. More and more, tea drinkers are waiting for the arrival of the months before Christmas to enjoy them. The cinnamon, orange, cloves, and ginger aromas harmonise to create a unique and unparalleled experience. 
In this post, you will learn all about this kind of teas, from their origin to tips on how to incorporate them into your tea shop.
Flavours and ingredients of these holiday teas
These holiday teas are blends of spicy and fruity flavours. The original recipe starts with a black tea base to which is added:
Spices

: cinnamon, vanilla, cloves, ginger, star anise, pink pepper or nutmeg. 

Fruits

: Dried apples and orange peel are the most common fruits. 

Nuts

: The main nut is undoubtedly the almond, an ingredient also used in nougat and Christmas sweets. Nuts and cocoa can also be found. 

Flowers

: Especially rose petals that create a beautiful visual contrast with the black tea.
But nowadays you don't only find Christmas tea with a black tea base, you can also find them in green tea, white tea, or Pu Erh. Tea and herbal tea manufacturers have also created fruit blends or Rooibos, which have the characteristic Christmas flavour, but no caffeine. 
In terms of Christmas tea flavours, cinnamon, ginger, orange, anise or vanilla tend to predominate.
These black teas, Pu Erh, and even Rooibos can be drunk with the addition of milk and sugar. Encourage your customers to try them with condensed milk as well!
Origins of Christmas teas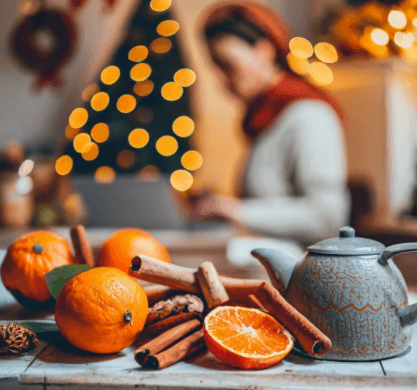 "Black tea with orange peel, ginger, and cinnamon, along with various Christmas sweets, were served at tea parties."
There are several theories for the origin of Christmas tea traditions.
One of them is that, to combat the cold temperatures in the UK at Christmas time, cinnamon, ginger, and orange peel were added to the tea. 
It is also said to have evolved from a European tradition of drinking Wassail (a spiced alcoholic beverage) and singing carols. In Victorian times, teetotalers changed Wassail to tea, adding spices to emulate this now alcohol-free drink. 
Gradually, tea parties became established at Christmas.
Sale of tea at Christmas markets
For many tea lovers, Christmas markets are the perfect place to buy Christmas teas. 
Germany, Austria, and France are full of beautiful Christmas markets, which attract the interest of locals and tourists at Christmas time. 
One example is the Christkindelsmärik market in Strasbourg, France. This market was born in 1570 and is held every year from the end of November until 31 December. The aromas of cinnamon, mulled wine, and biscuits will captivate you. Here you can find food stalls, Christmas decorations, and of course, tea.
If there are temporary Christmas markets in your town, you should consider having your stall. These markets are ideal for selling Christmas and winter teas and holiday gifts; and, overall, for making your shop known to more potential customers.
6 reasons to include Christmas teas in your tea shop
If you have just opened a tea shop or are not yet aware of the importance of these teas, read on. We give you 6 good reasons why you should include these seasonal teas in your tea shop. 
They are the most sold references in November and December in tea shops (physical and online). 

You can include them in your Christmas gift baskets and gift packs, making them an excellent attraction. 

Responds to the needs of your customers: Being a seasonal product, they are eagerly awaited by tea consumers who will come to your shop looking for them.

The intensity of their aromas and their visual appearance arouse positive emotions in the shopper, making them more likely to buy.

They are the perfect accompaniment to hearty winter-Christmas meals. Many customers demand these teas all year round. 

One trick to keep selling them after Christmas is to adapt their name to other seasons.
Tips for choosing Christmas teas for your tea shop
The peak of sales of these teas is between the beginning of Advent (4 Sundays before Christmas Day) and Christmas. This is why we recommend that you put them on sale from mid-November until the end of Christmas. So have foresight and order from your supplier before the end of October. 
As we saw earlier, there are Christmas blends with all kinds of bases. Our advice is to at least introduce a black one. If you add a Rooibos or fruit blend you can satisfy those customers who can't have caffeine.