"How to open a tea shop" is one of the most asked questions that we receive from future tea entrepreneurs. And with good reason! A tea shop is the perfect business to make the saying "work at what you love" come true for a tea lover.
In all our years of experience we have been lucky to see the birth and growth of hundreds of successful tea shops all over Europe. It's time for us to give you tips and key factors of success for a profitable tea business.
Reasons for opening a tea shop
The first motivation for an entrepreneur to choose this path is his or her passion for tea. But there are many other reasons why opening a tea shop should be an attractive option:
Unlike other food products, It is a product with a high profit margin. An average tea store calculates the selling price by roughly multiplying by 3 its purchasing cost.
The global trend of the last 15 years is stronger than ever in 2023. It is constantly associated with a healthy lifestyle, as well as the need to take care of oneself and his loved ones,
Good quality packaging makes it the ultimate gift on a reasonable budget. Indeed, it can be a great present idea under the 15-20€ threshold.
The investment to open a new tea shop is lower than the average costs for other businesses.
The customer profile is easy to handle. Tea lovers are often educated and passionate people who pass on their love of good food and reasoned consumption,
It allows you to work with the senses, so your work routine will be a delight!
It's a product you'll always learn more about. Unlike other commodities, the world of tea is wonderfully complex. New ingredients, flavors and trends create the foundations for an endless world of possibilities and renewal.
Last but not least, you'll be your own boss. And for many of us, this has no price!
Find the right location for your tea store
As Harold Samuel famously said about the first rule of real estate: "Location, Location, Location!". It's just as true when it comes to where you should open your business.
The best place for your tea shop will be indeed one of the key factors of success. But the location will have influence on many factors, including your opening hours or your pricing policy, as you're about to discover.
Regarding the size of your shop, there is no magic rule. We know small businesses of about 12 square meters, that generate thousands of euros more than 40 square meters shops. It depends more on the location, your business concept, the type of customers…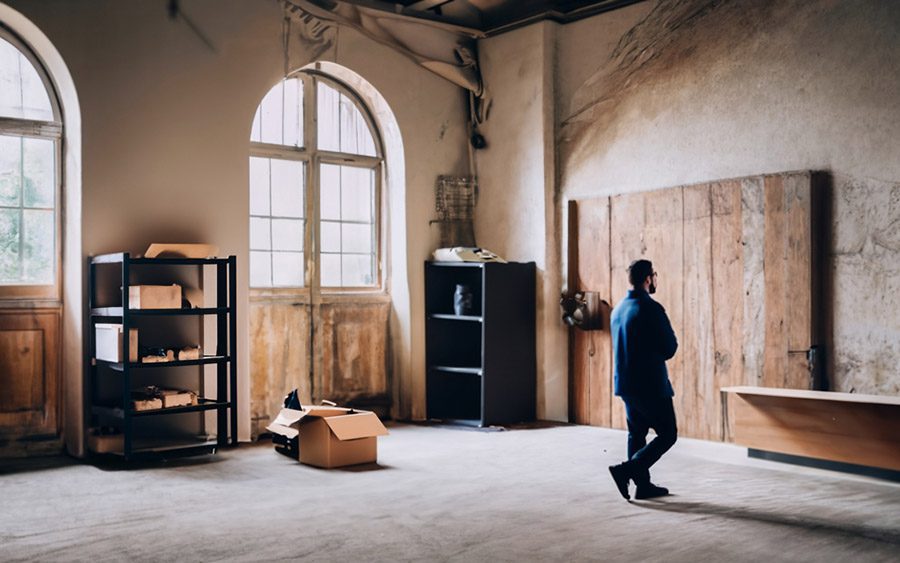 A tea shop in the city center
If your budget allows it, you will have many advantages by opening a tea shop in the city center. These areas usually have the highest traffic of pedestrians for locals and sometimes tourists as well.
On the other hand, business premises tend to be more expensive per square meter. On the positive side, a commercial space in central areas is often more adapted for a quick opening. So you will not need to invest a lot of money in renovations.
A tea shop in a specific touristic zone
Depending on the area, a brick-and-mortar shop in a touristic zone can also be a great option.
When we travel, our relaxed state of mind makes us more inclined to buy and be seduced by the sensory qualities of the tea.
Many customers are searching for gifts to bring back home to their "tea-loving" mom, or "rooibos fan" colleague.
For tourists, it is key to market giftable products with suitable packaging and a nice design. Playing the local card, with the ingredients and tastes from the region also adds to the uniqueness and relevancy of your assortment.
Finally, don't underestimate the power of a good evocative tea name. It has to sound good in the ear of your customer….
As in the central areas of the city, rents tend to be quite expensive. You should also bear in mind that you will have to open your shop on public holidays, weekends, and adapt to tourists' schedules.
A tea shop in a residential area
For lower budgets, opening a tea business in a residential area can be the best option. You should then adapt your business hours when your customers are the most likely to visit you. It means for instance when they come back home from their working day.
A tea shop in a market square
Food markets have 4 very positive advantages:
it concentrates many visits in half a day or less,
you can rotate location every day, allowing you to reach a maximum number of potential customers,
the price of the "location" is the lowest of all the options
you generally have more flexibility to stop renting a place if you want to stop selling in a specific market.
The downside is that it can be hard to get a (good) placement. Newcomers often have to jump hoops in the bureaucratic world to complete their application. Then they find themselves on a waiting list because many markets have reached 100% capacity.
Finally, you also need to adjust to the hours of business, which are usually only in the morning. If this is the case, many successful tea entrepreneurs expand their business with an e-commerce or home delivery service.
A tea shop in a shopping mall
Tea stores located in shopping malls can achieve high revenues. This is because this option gives you high visibility to a steady stream of active shoppers with medium to high purchasing power.
However, you will be forced to have more staff or work long hours in order to respect the mandatory opening hours that malls usually have! And this will include public holidays and weekends.
Get licenses for your shop
An important aspect to open a store is to comply with the current legislation in force for food retailing. And each country applies its own laws. So there is no "1 size fits all".
This is why our only advice is to go to the town hall of your city to be informed about the needed requirements.
Among those may be important aspects to know even before choosing your commercial space. Some of these requirements that affect the premises are:
toilet availability,
hot water availability,
access for the disabled,
need for air conditioning, etc.
In some countries, it is also recommended that you have a simplified hygiene plan that you can show to a health inspector when requested. This will also help you to ensure the quality and safety that your customers deserve.
If you plan to sell organic teas and infusions, you should contact a certification body active in your geographical area. In that regard, Ecocert is definitely one of the most internationally regarded agencies worldwide.
Use the right decoration and equipment for your tea shop
You already have the premises and the necessary permits, now all that's left is the decoration!
Fortunately, decorating a tea store is a bit simpler than other businesses. The key is: it should be a pleasant place that conveys tranquility and good feelings to your customers.
Think of it like this: most consumers associate tea with moments of calm and rest. Your shop should communicate the same relaxing and soothing atmosphere.
If your budget allows, we always recommend contacting a decorator and giving him a brief. Working with experts always brings you closer to matching your business with your customers' expectations.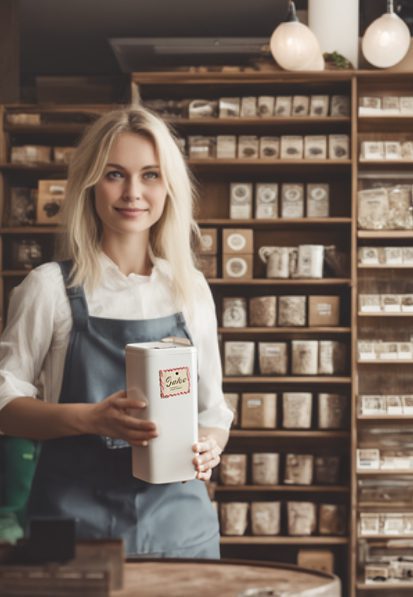 The basic elements you will need to furnish your shop are:
Shelves to display the tea (leave space, don't clutter)
A professional scale that weighs to the gram
A counter
A cash register
Areas within your tea store
Inside the shop, we advise you to set different areas:
The customer service area. This is where customers are oriented when they are served. The tea is weighed and you collect the payments there. You should have a table or counter, the weighing scale, the bags, wrapping material, and the cash register.
The tea display area. Here you will find shelves containing the tea caddies. It can be behind the customer service area, with you bringing the teas to your customer for them to see, or it can be placed in an area accessible to your clients. It is essential that they can smell the tea. Most customers buy only by smelling. Allow them do so.
The tasting area. This optional area will allow you to do tastings and even put a teapot with cups to promote the tea of the day.
The storage area. An upper floor or a basement can sometimes be sufficient. In case your shop is too small, you can store products in drawers at the bottom of the shelves of the display area.
Store equipment to better preserve tea
Depending on the temperature in your city, we recommend you to air-condition your shop. Long term, high temperatures damage the tea as well as other foodstuffs such as coffee, spices, chocolates or cookies.
Maintaining a constant temperature under 22°C will help protect the goods and make your customers feel more comfortable inside your shop.
If your city is on the coast or is an old building where humidity accumulates, you will need a dehumidifier to preserve the tea properly. Most hygrometers only cost between 10 and 20 euros and are definitely worth it.
When displaying tea in the caddies, remember that it should not be exposed to direct sunlight, so if you have a shop window, install an awning on the storefront. Some type of vinyl on the window can also be an alternative.
A very common mistake is to use some kind of perfume, incense or air fresheners inside the shop. Never use anything that could make the flavors of the tea take a back seat! Besides, tea is very sensitive to odors and this could deteriorate or alter its smell and taste.
Choose the right supplier
This part is more important than it seems, and to which many entrepreneurs, unfortunately, dedicate a smaller part of their budget.
When selecting your tea supplier, focus on the quality of the product, variety of teas and infusions, specialization and experience. 
Indeed, a first sale to a new customer is usually made thanks to the smell of the tea. If it tastes good at home, you will optimize your chances that they will ask for more and come back to the store. In both cases, the quality of the product is essential to your success.
The more pure teas and blends your supplier offers, the better you will be able to satisfy your customer's demand. It will allow you to follow market trends and to have numerous options to differentiate yourself from competitors.
You want to know more about our solutions for tea shops? Request a free catalogue now! 
Also, specialized tea shops sell on quality, not on price. That's also how you distinguish yourselves from cheaper alternatives.
Finally, an experienced supplier will be able to advise you in building or optimizing your assortment, in helping you with your customers' questions and how to solve the difficulties that may arise in your day-to-day business.
Do you need a business plan to start a tea room or a tea shop?
The short answer is: yes and no.
Now the long answer.
A business plan is necessary to convince 2 types of persons:
an investor – that's the equity side,
a banker – that's the liability side.
In other words, do you need money from the outside to launch your project?
If yes, then some kind of business plan will be necessary. A well-structured document with sound assessments might give you the extra credibility needed to convince a third party cash contributor.
On the other side, if you have sufficient funding on your own, then you could skip this step. But, from our experience this would be ill-advised. Why?
Because:
How to be sure that a project is realistic?
How do you know how much you have to invest in the first place?
How to know how many kilos of tea should be sold per day? per month? per year?…
A business plan is not a recipe for success. But it will give you more security and control to be sure you are on the right track and you are reaching your financial goals.
If you need some tips, here is a step by step guide to prepare a business plan for tea shops.
How much money does a tea shop owner make?
It's so hard to answer as many subsequent questions need to be addressed first:
How big is the shop?
In which country?
In which city?
Does he sell only tea or other products as well?
Does the owner perform other roles? Is he also the vendor? the accountant? the purchaser? All of the above?
Is it a franchise or an independent?
Is it a brick-and-mortar shop or also an e-commerce?
Does the owner have only 1 shop?…
As you can see it is not possible to give you a definite answer.
In our experience as a supplier, we can confirm that many tea store owners manage to have a sustainable living. As they grow, it happens quite often that their significant other joins them as an employee.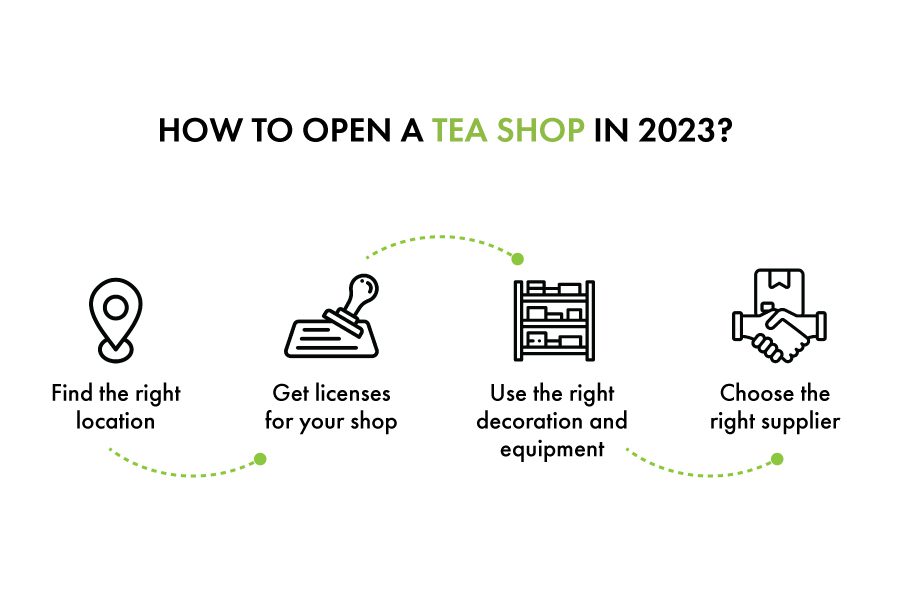 The tea market reshaped itself in the last 2 decades to follow trends evolving around new ingredients, tastes and functionality. As new generations of consumers drive consumption forward, opening a tea business is more than ever a great business idea in 2023.
To open a brick-and-mortar shop you have to decide which type fits your budget and concept. Would you be better off:
Consider the specific authorizations and licenses you might need, for instance when selling organic teas.
Also, never underestimate the "feeling" people have when entering your shop. Creating a relaxed atmosphere and enjoyable experience is attained via a good decoration and a sense of great service.
Your tea is king, so don't hesitate to spend time and energy on finding the right supplier . Remember that your products will have to distinguish yourself from the competition.
Finally, a good practice is to create a business plan. It is highly recommended even if you don't need external money support.
Have we answered your questions? Did you wish that we address additional topics in this article? Let us know in the comments!