The assortment for a tea shop is what gives its personality and in the end what attracts consumers. This is why you should pay the highest attention when creating your product offer.
Quite often, we see product selections made by entrepreneurs who are just starting out in the tea world. Unfortunately, this causes them to make some mistakes.
From our experience advising hundreds of entrepreneurs in opening a tea shop, we will walk you through the different steps to build the perfect product assortment.
Keys to choosing the best tea assortment for your business
The top 2 questions you should have right now are:
How many references should I have in my shop?

What types of teas should be selected for my tea assortment?
Let's try to answer these questions step by step!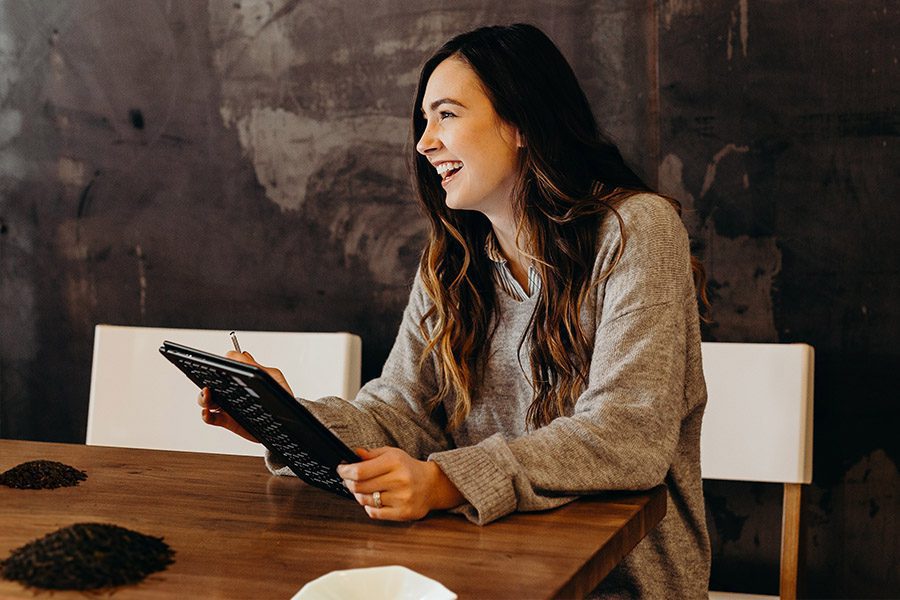 How many references should I have in my shop?
This is the most frequently asked question by future tea shop owners.
And the basic answer is: between 120 and 250!
Now, there are many subtleties to take into account before determining a final count. Let's go through some of them now.
The top 3 factors are:
The concept of your shop,

The space you have available,

The competitors in your area.
If your goal is to have a shop specialized in tea, you would display a minimum of 120 references to start with. 
It is wide for sure, but having 30 or 40 references would mean having too many holes in the assortment.
Indeed, a standard shop has to provide solutions from many types of tea drinkers:
The person who wants a herbal tea with a specific functionality

The specialist searching a single estate rarity

The person in search of a "morning booster" to replace his usual

cup of Joe

,

The gift shopper, not knowing what tea he needs except that it has to be giftable and cost a certain price

etc, …
Long story short, you won't be able to answer all these needs with 40 products.
So, about 120 references would be wiser. But it means more inventory and space for it. As a consequence you need to invest more money in your stock!
Why do I see some shops with less than 120 references then? 
Well, in most cases, they would be a hybrid model, serving tea and many other products. It is quite typical for delicatessen shops for instance. They might sell a wide variety of products (olive oil, soaps, coffee, spices, incense, …) and where tea is just a complementary product. 
In those cases, having a small tea assortment would suffice.
But a specialized shop will focus on tea as the main product. And if you want customers to associate your shop with tea, you will serve a wide range of products fitting the needs of many different shoppers. 
When do I need 250 references then?
The safe path is to start with around 120 references, and slowly grow your range based on customer feedback and experience.
250 teas is not an absolute and can become an inventory management dilemma.
To sum up, it's up to you. But, take the time to learn by doing during your first year in business. You'll know more than anybody else what you need after a certain time…
Space available in your shop
That's a difficult question. Indeed, the space needed is also related to how your store is set up.
Here, we consider first and foremost the number of square meters you have at your disposal.
We also presume that you have "standard" shelves not higher than 1,80 meters. If higher, keep in mind that many shoppers would find it uneasy to serve themselves or even read what is written on packages. 
For the same reason, it is best practice to avoid low shelves close to the ground level.
As a rule of thumb, it is manageable to elegantly display 150 references in a 40m2 shop. You can store more, but keep in mind that you need sufficient space for your customers to walk around. You also need square meters for a counter, accessories, tea-tasting area…
With 250 references, we recommend you to consider a store surface of about 60m2 or more.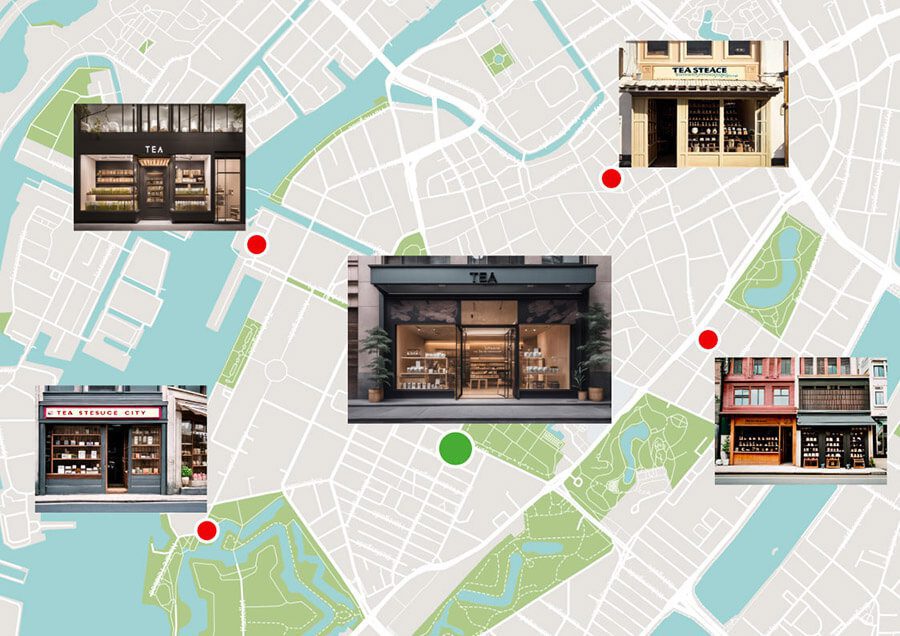 If you open your shop in a small town, where there is already a tea shop with 200 references, it will not be advantageous for your business to start with a small assortment. 
Also, many new shops tend to copy what other shops around are doing. It is not a bad idea per se, but you should also focus on the holes in their offer. 
Example of a good strategy in close and middle-sized cities: 
If competitors have a small offer in a specific category (let's say for Rooibos), this is actually an opportunity for you to have a wider offer. That way, you create distinction in the market.
You could apply the same reasoning for missing tastes or types of tastes (gourmand teas for instance). 
Finally, many tea shops are not investing enough in packaging. This causes them to miss sales because the product is not "giftable" enough. But tea has become a major hit as an affordable and low-priced present. For you, it's another way to distinguish your offer from competitors.
Types of teas for a specialized shop selling loose tea
In this section, let's explore what types of teas and herbal teas are recommended.
Teas and herbal categories in a nutshell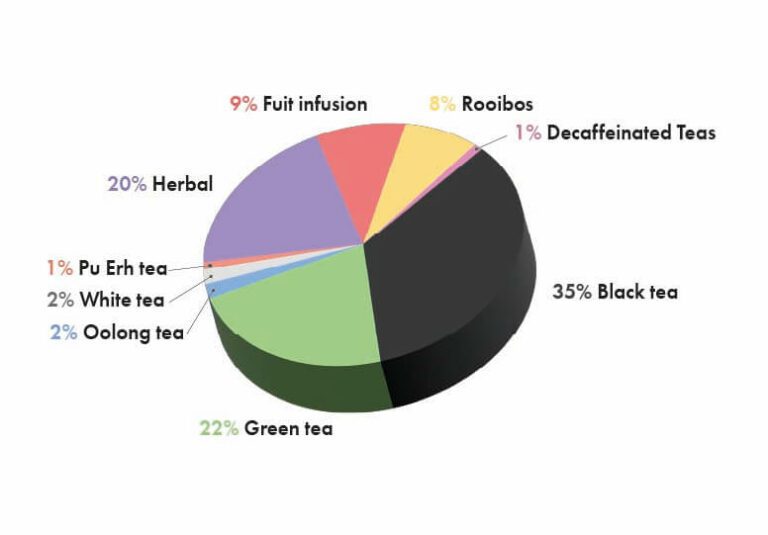 First of all, you should have references from all tea families. In the Uk, a balance assortment should look like this:
Teas categories:


 

Black tea –

35%

of your assortment

(FR: 23% – DE: 20% – SP: 17%)

Green tea –

22%

  

(FR: 30% – DE: 19% – SP: 22%)

Oolong tea –

2%

(FR: 2% – DE: 1% – SP: 3%)

White tea –

2%

  

(FR: 4% – DE: 3% – SP: 4%)

Pu Erh tea –

1%

  

(FR: 1% – DE: 1% – SP: 10%)

Herbal teas and caffeine-free categories:

 

Herbal teas –

20%

  

(FR: 20% – DE: 29% – SP: 20%)

Fruit teas –

9%

  

(FR: 10% – DE: 19% – SP: 8%)

Rooibos –

8%

(FR: 9% – DE: 7% – SP: 15%)

Decaffeinated teas –

1%

  

(FR: 1% – DE: 1% – SP: 1%)
The percentages are averages calculated from different data sources. They are purely indicational and should be combined with other factors mentioned in this article.
If you want to reach experienced tea drinkers, we encourage you to introduce the so-called yellow tea as well (also known as golden tea).
Classical teas or blends?
What we call "classical teas" or "pure teas" are references like a green tea sencha, a black tea Darjeeling, a green tea Gunpowder. They are not scented with flavors and not blended with other ingredients.
Within each tea family listed above, you should have a mix of "classical" and blends (flavored and not flavored). As a rule of thumb, split it as follows: 80% of your teas should be blends and flavored products, and about 20% should be "pure" teas.
If you want to provide a more specialized service and stand out more from competitors, we recommend that in the case of "classical teas" (or "pure teas") you have several different types for each family.
"Examples of classical green teas: China Sencha, Japan Gyokuro, Japan Sencha and China Gunpowder…"
Each type of pure tea is different and has nuances that are more in tune with a certain consumer profile. 
For instance with black tea: 
A customer who likes black tea with milk will come to your shop for a pure tea from Assam or Ceylon. If he or she likes to drink a floral black tea, he may ask you for a Darjeeling, while if he likes a smooth black tea, he will go for a black tea from China, such as Golden Yunnan or Keemun. 
Since the tea terroir is highly valued by expert tea drinkers, you can create a section of pure teas by country. 
Basic rule for a tea shop: the absolute minimum is to have at least one pure tea from each tea family and a minimum of 5 flavored blends for black and green teas. 
White and oolong teas, a minimum of 2 blends may be sufficient in the UK for instance. 
Finally, Pu Erh. Not favored by customers from the UK. One pure Pu Erh and 1 blend will suffice.
Finally, tea shops also include products for caffeine-sensitive customers in their assortment. 
This section deserves as much care as the teas, because these are the drinks that can be drunk by children and the elderly, as well as by tea drinkers from other age groups. 
New generations of consumers have both strongly renewed the market and steered it towards functionality and lifestyle. Many of them will come to you not for a taste or a type of tea, but more for a solution to a problem: I want a product for digestion, to improve my sleep, etc.
Additional tips for updating your assortment
You have successfully launched your activity? It's now time to think about how you can regularly refresh your assortment and keep shoppers interested. These tips will be very useful for you to improve your customer retention:
Refresh your assortment:

Try to have at least 10% of your products shifting according to the time of the year. Seasonality matters! This means that when summer comes, you should remove teas that are considered too wintery, and make space for seasonal products. 

Research your competitors

. See which teas sell the most, which are the most valued by their customers, what new products they introduce…

Bet on originality:

Of course, there are classic teas that you shouldn't be without… but something fresh and new is always a good way to attract new customers and keep existing ones.
Look for holes in the assortment of other local resellers. There might lay an opportunity for you to bring to the market something others don't have.
Don't be guided by your own personal preferences:

This is the most frequent mistake. Tea shop owners often include teas they personally like. But most of the time, it is no guarantee of success. It's much better to…

Listen to your customers

: most of them won't be specialists, but they are quite savvy about what they like and what they don't like, what they have tried already from other brands and what they would like to discover. They will be by far your best source of inspiration!

Focus on quality:

It is better to focus on having fewer good quality products than many low quality ones, even if they are cheaper. Remember: somebody coming into a tea shop is usually not looking for something low-priced that could be just as well bought in a supermarket. The long-term tea consumer will favor quality over price.

Maintain a variety of flavors relevant to your market:

Try to have a wide variety of tastes in all your blends. Many customers come for specific tastes. If your budget and space allow it, having the most common flavors in several tea categories will make it easier for you to match the wishes of your customers.

Ask your supplier:

a good supplier should be more than a vendor. Why? Because an experienced sales representative will know what works on your market. So you should simply ask him or her! At Alveus, we know what has worked for thousands of customers and what has not. We also have an extensive marketing department that is always up to date with the latest trends in terms of flavorings and ingredients. This knowledge is given back to our customers to help them becoming more successful.

 
To sum up, the shop's selection is alive! This means you shouldn't stick with your original assortment forever. 
And… listen to your customers. They will be the ones telling you what you should have in your shop. 
What other products can complement tea?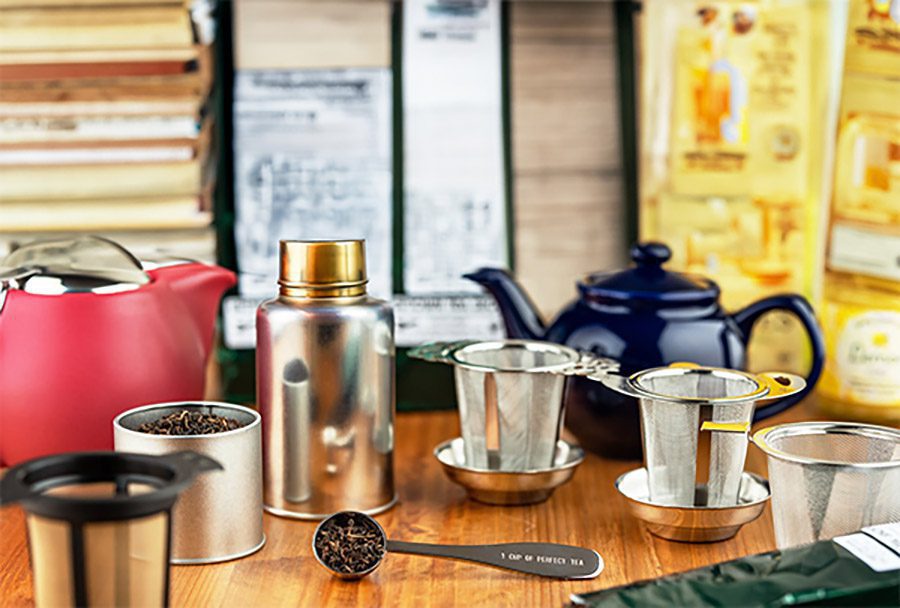 If you own a tea shop, you should know that it is not only important to offer a wide selection of high quality teas, you also need to sell complementary products that can enhance your customer's experience. Some complementary product options to consider for your tea shop include:
Offering them in different styles and sizes is a way to give your customers the option to choose the perfect teaware fitting your main products. They also make the perfect gift for a tea lover.
Although it is more advisable to drink tea without any type of complement, some people enjoy the addition of sugar or sweetener. These kinds of products won't be best sellers but remain relevant to a specific part of your customer base.
You can include everything from classic white sugar to brown sugar. Nowadays there are even sugars in different flavors (vanilla, caramel, cinnamon…). Some customers in search of natural alternatives such as Stevia could also be an option.
Biscuits, cakes and chocolates
Biscuits and cakes are a tea-time classic. Ideally, try to find artisanal and local companies. Alternatively, distribute a brand that is not sold in mainstream supermarkets. The goal is clear: distinguish yourself and create an exclusive image for your store. 
Another product that is considered a delicatessen and is often found in tea shops is chocolate. You can have it for sale by weight or in beautifully pre-packaged boxes.
Other tea-related products
A tea shop should be the temple where a true tea lover can find everything related to this precious drink. This is why you can offer books about tea, specialized magazines… and even CDs with music for tea time.
Which products should you not include in your tea shop?
Try to avoid all scented products such as incense, soaps or perfumes. 
Tea is a very sensitive product and easily takes on outside odors. Moreover, tea has a delicious aroma for tea lovers, so with such products, its natural aroma would be kept in the background.
Remember that there is no specific number for how many references you need in a shop. 
Every tea shop is different and its assortment must be carefully studied. That is why we advise you to work on this part of your business carefully. 
Before launching your business, ask professional suppliers. They can help by guiding and advising you. Once launched, your customers will be the best source of information on how you can develop your assortment.